President Rodrigo Duterte on Monday endorsed the 2019 senatorial bid of singer Freddie Aguilar, whom he described as an "exemplary nationalist."
Duterte pitched for votes for Aguilar, who is trailing in pre-electoral surveys, after the singer serenaded the audience that gathered for the inauguration of the Parañaque Integrated Terminal Exchange, which boasts of an airport-type facility and service features.
The 65-year-old singer was among the first to file his candidacy papers last month for senator supposedly under the ruling PDP-Laban.
The ruling party, however, denied that the music icon was part of its senatorial line-up.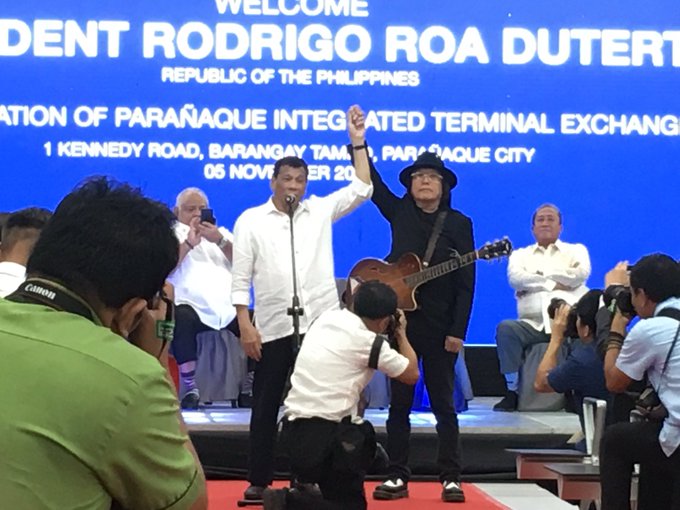 "Tulungan natin si Freddie because he is one exemplary nationalist guy. And do not ever think that Tagalog lang 'yan. He is my friend. He is a brilliant guy. He can talk and he can help the country," Duterte said.
"Maybe he can relate or translate his songs in Congress and give him a chance also. Give him a platform to tell us about what he feels. Isang nationalist," he added.
Duterte then raised the singer's right hand and said, "Vote for Freddie Aguilar."
"Kaya ako nakikiusap. Tutal dose man 'yan. Ibigay ninyo sa isang nationalist, 'yung isang tao nagmamahal sa bayan. And the protest of his songs are there. Makikita na ninyo for the next generations and generations to come," Duterte said.
"'Pag hindi ninyo binoto 'yan, bantay kayo sa akin. Isa-isahin ko kayo," the President said in jest.
The Senate in March feted Aguilar for his lifetime outstanding contributions to Philippine arts and culture.
His 1978 song "Anak," which is about the parents' love for a wayward child, was released in 53 countries, translated in 29 languages, and re-recorded in more than 100 versions. It sold 33 million copies worldwide.
Aguilar actively campaigned for Duterte's presidential run in 2016.
Source: GMA
Pres. Duterte endorsed Freddie Aguilar's 2019 Senatorial bid
Oleh
BNP Correspondent